TALL BEARDED IRISES
We have an increased selection of Iris varieties this year which have been grown in large, 10 inch (7.5 litre) pots. We will remove the pot and excess compost before posting to reduce the weight.
To view our full range of Iris, please click on this link tall bearded Iris or use the View Catalogue link above for our range of plants. If you need some help with your selection just give us a ring on the number at the top of the page.
Below is a picture of the Iris plants growing in one of our tunnels, this is the size of plant that you will receive – without the pot or compost.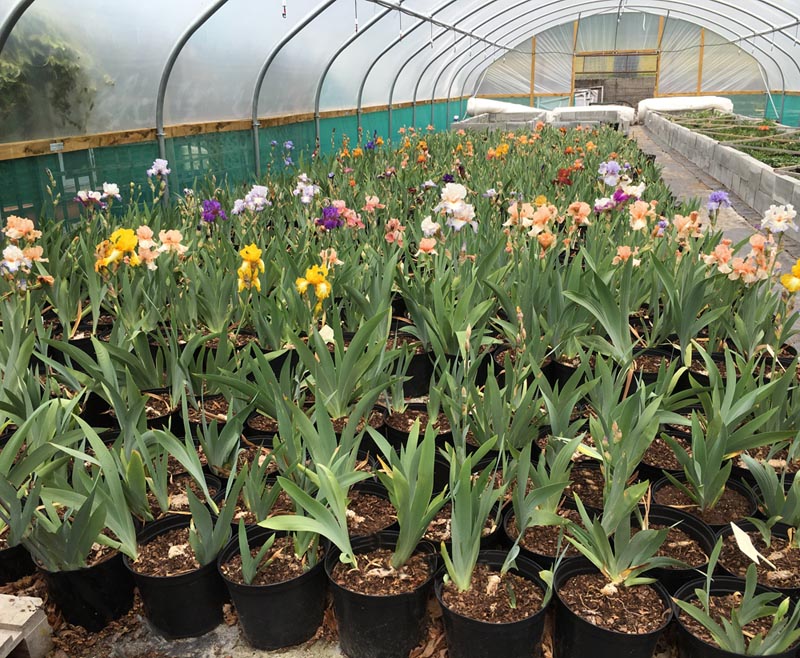 VISITING THE NURSERY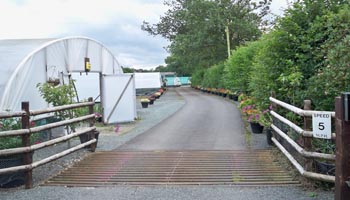 We are always pleased to welcome customers who would like visit the nursery (according to the government restrictions). However, please contact us first to make an appointment on weekdays between 11am and 5pm, so that we can ensure you are able to wander through the tunnels at your leisure.

AVAILABILITY OF PLANTS FOR SALE
We update our website regularly with current availability of plants. MINIMUM ORDER
There is a minimum order of £30 plant value for Alstroemeria, Iris or combined orders. This does not include the Iris Collections, which are posted separately via Royal Mail. DELIVERY
Orders will be acknowledged personally by e-mail within a few days, giving an estimated delivery date. In normal circumstances, plants will usually be despatched within 2 to 3 weeks from receipt of your order according to plant availability. However, in midsummer we may pause despatch while we cut down mature stems to encourage new flower shoots. P&P is charged at £9.95 for all orders up to £99.99 and reduced to £4.95 for orders of £100 or over for mainland UK, excluding Iris Collections, which are posted separately via Royal Mail. Please note that orders to the Scottish highlands & Islands and the Isles of Scilly will incur an additional carriage charge. We can no longer deliver to European countries or Northern Ireland. ALSTROEMERIA & IRIS CATALOGUE
If you would like a copy of our illustrated catalogue please give us a ring on 01939 291 475 or request one using the Contact us link at the top of the page. But please refer to our website on-line catalogue for availability, which will be regularly updated.

SECURE CARD PAYMENTS ON-LINE
We take your card security very seriously. When you order on our website you will be taken directly to the Worldpay secure website to make your payment. You will see the Worldpay padlock which indicates that your details are safe, we never see your card details. Our website complies with the most up to date industry regulations (Payment Card Industry Data Security Standard). COOKIES
In order to keep track of your order and create a shopping basket, our website uses small text files called 'cookies'. These harmless files are removed from your computer as soon as you leave our site. We do not use 'persistent' or 'tracking' cookies that can remember you when you return to the site. Using our website implies that you understand and agree to this.

RHS THE GARDEN ARTICLE ON ALSTROEMERIA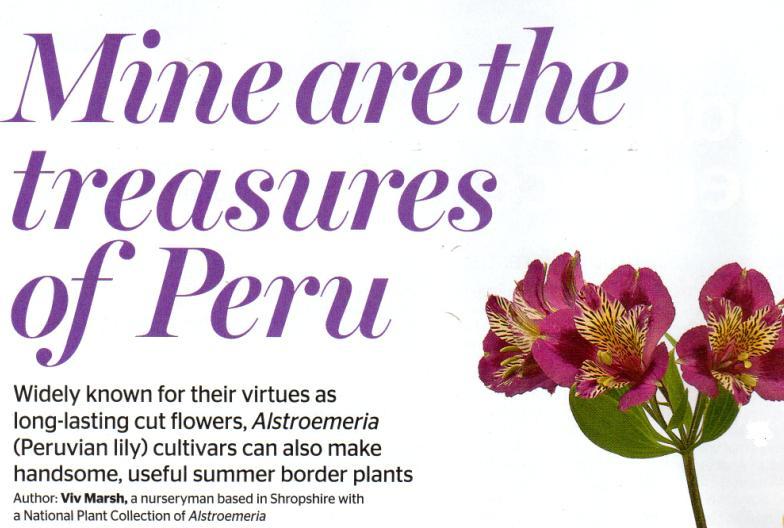 If you are a member of the RHS, look out for the article on Alstroemeria that I wrote for The Garden magazine. PRAISE BEE CHARITY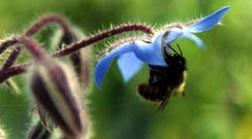 You might have heard on BBC Radio Shropshire from time to time or seen on Countryfile about the charity. We have been breeding osmia solitary bees in the wild for over ten years.

My remit is to initiate the concept of breeding these bees back in the hands of the general public. As a qualified farmer as well as horticulturalist, I feel well placed to carry out this task.

Please log onto the charity's website for further details PraiseBee.org.uk


PRINCESS ROYAL HOSPITAL ALSTROEMERIA GARDEN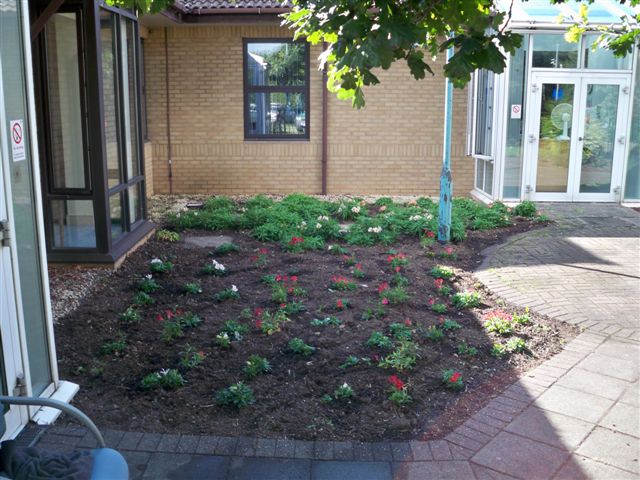 The finished article!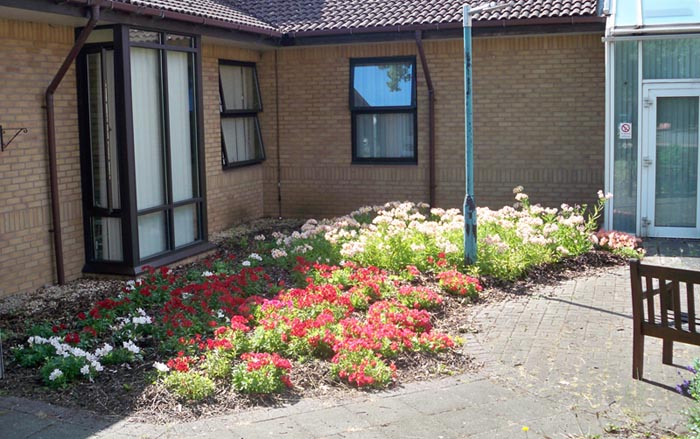 In my spare time, I used to work as a volunteer for Shrewsbury and Telford Hospitals. You can see from the images above the new Alstroemeria garden I am building outside Ward 16, and you can now see from the picture below, how the planting went. The reason I have shown you these pictures is to give you an idea just how much compost you need to dig into your own flower bed to make it suitable for Alstroemeria and also show you the correct spacing of these plants, which is roughly 18 inches apart.

The purpose of this display bed is to create a solid carpet of Alstroemeria. If, however, you are planting bespoke Alstroemeria into your herbaceous border, you need to cater for an eventual spread of 2 ft for these plants. Should this spread be too great for your planting plan, then simply use the garden spade to keep the plant spread to the size you want.

If you would like to learn more about this and other gardens we are renovating at the hospitals, then please click on this link: Healthcare With a Kind Touch and a Small Footprint WINTER CARE OF ALSTROEMERIA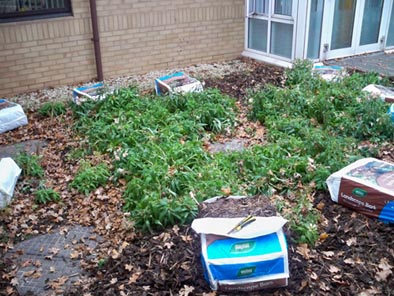 Take a look at the picture above with the tree bark I put on this display bed. This is what I want you to do when you hopefully buy some of my plants.
After the first frosts have burnt off the old foliage, tip out eight inches of good quality tree bark. This can be removed temporarily the following April or left as a mulch against weeds.
After the first two winter seasons of planting, the Alstroemeria will have pulled themselves deeper into the soil, below the frost zone and this temporary duvet of tree bark will no longer be needed.

And here's another example: St Lucia's Church, Upton Magna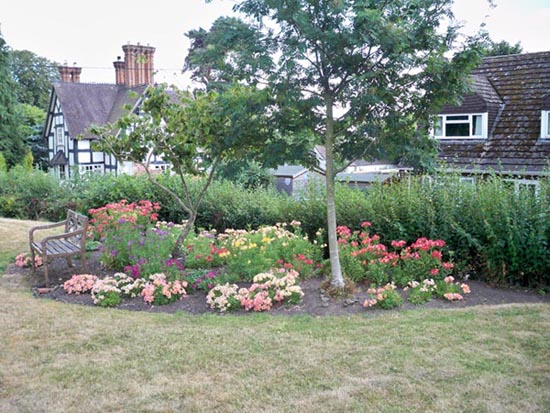 WEALTH WARNING
ALSTROEMERIA BARE ROOT PLANTS OR POTS?
The old adage 'You don't get something for nothing' has never been so true! We only sell large, 1.5 litre plants, which is the equivalent of a standard plant you would find in a garden centre. Our plants are well established which means they will flower this season. When comparing our prices, please bear this in mind. We do not send out plugs or small, 7cm or 9cm pots as we feel these are too small to plant directly into the ground. We would never send alstroemeria plants bare root, as we feel there is a strong possibility that they will not survive. To buy bare root Alstroemeria is very risky, with high mortality rates from bacterial and fungal root rots. To plant bare root in the autumn is simply utter folly. Please don't be tempted when you see adverts like the one below for bare root plants.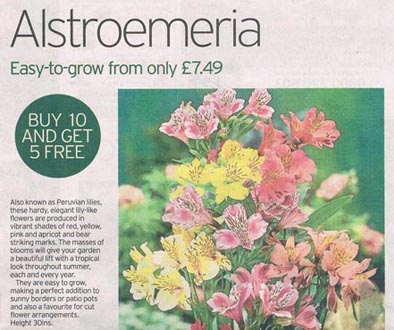 Advert for bare root alstroemeria
To illustrate my point, I sent for some different varieties as bare roots in the spring and grew them alongside my micropropagated varieties. You can see for yourself the results in the picture below.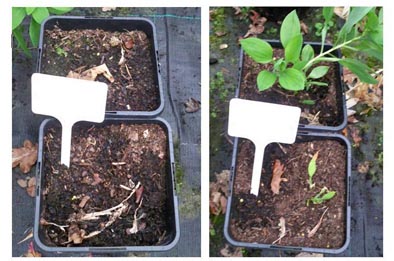 Bare root tubers planted the previous spring

Just compare this with a micropropagated plant that was potted up at the same time growing in the same tunnel!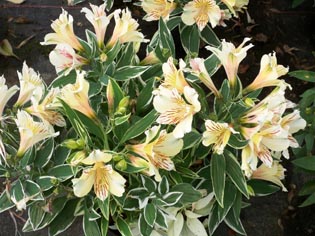 Alstroemeria 'Princess Fabiana' (micropropagated from tissue culture)

Put two of these plants in a large pot and you will end up with a display like the one below in a year's time, which will give you flowers from late spring until the first frosts.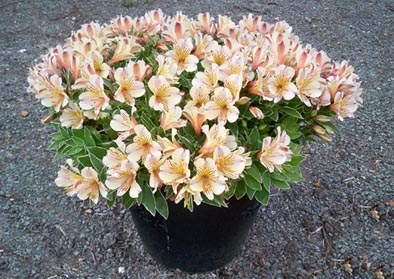 AT LAST
After many years of building the laboratory in the nursery, working late into the night with numerous trips to the DIY, sourcing the equipment and literally travelling the world for the know-how, we have finally started production of micro propagated Alstroemeria.

The next few years will see improved media formulae analysis alongside growing techniques before production is where I would like it to be. This is the nature of the work.

I would like to thank my mentors and tutors: Professor Mark Bridgen at Cornell University, New York and Ros Smith at the Duchy College in Camborne, through Plant Heritage, for their knowledge, kindness and patience in supporting me to achieve this goal.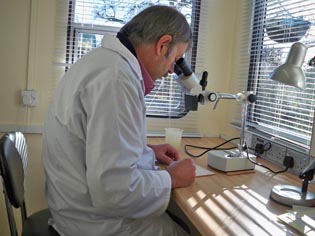 Step One sourcing of buds from the mother plants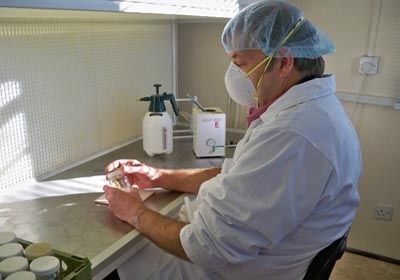 Step Two Meristem production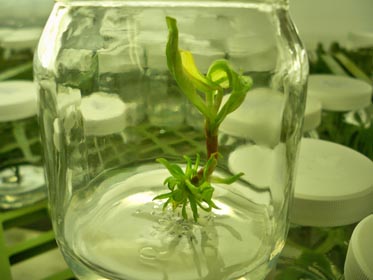 Step Three Alstroemeria budding up on agar gel 'in vitro'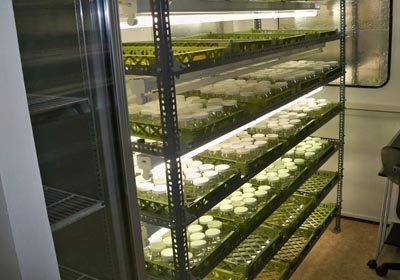 The laboratory growing room

AND FINALLY ….
Do please bear in mind that it costs substantially more to grow a plant from micropropagation in a laboratory. Accordingly, I have to charge more for the final article to cover my costs. I wish I could say that this could make me a millionaire, however, this is not the case as there is a simple rule that no-one gets rich growing plants! NATIONAL COLLECTION OF ALSTROEMERIA